PickCart – Navigate Your Warehouse Complexity!
PickCart is Pcdata's innovative multi order picking solution which will rapidly reduce your order assembly time in a high SKU count, low volume warehouse operation. Designed to maximize efficiency during the picking process, our PickCart is mounted with the latest route optimization software, ensuring the lowest possible distance is travelled by operators.
A highly flexible system, PickCart can be used as a standalone solution or combined with other picking technologies to produce the ultimate picking strategy in a multitude of environments. Every warehouse journey is maximized; every possibility for error is minimized.
The use of high visibility display technology helps to eliminate the potential risks of errors that can occur using other multi-order picking methods. The hardware design is completely flexible meaning it can be tailored to the required cart, box, or order size.
Immediate Increase in Productivity
Unlike any other order picking technology, Pcdata's PickCart is designed to pick multiple orders in one go around the warehouse. This drastically cuts per-order picking time, increasing warehouse productivity.
A large % of the time in any order assembly activity is taken up by walking. The use of PickCart technology significantly reduces this walking time; simply by combining multiple orders intelligently, walking distance can be cut by up to 50%, sometimes even more. These gains can be further enhanced with the use of our dynamic routing technology ensuring your operators always follow the most effective route.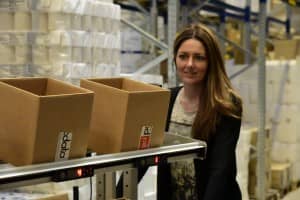 Features:
Multiple orders can be handled concurrently
Efficient route optimization software
High visibility multi-color putting displays
Flexible mounting system, can be applied to a wide variety of handling equipment
Intuitive and easy to use software
High accuracy order picking
Picking data can be interfaced back to ERP/WMS to provide real time      visibility
Hassle free user maintenance
Easy to learn, easy to use